We are rattling up the hill in a twenty year old Land Rover, my childhood car.   The late afternoon sun bathes my bare legs and the warm wind whips through the open window.   My son is in his car seat in the back, happily eating a basket of freshly picked blackberries.   The juice dribbles down his chin and arms, one of which he is swinging in the air to the raspy music which comes in and out through the thick haze of white noise; it's a good song and he's repeating some of the words.  
Next to him sits a wooden crate with tonight's dinner in it, fresh from the market: pasta, vegetables to grill, a bottle of cold salmon pink rosé, arugula, avocado, tomatoes and milk.     There's enough time for a play in the garden before I prepare his dinner, which he will eat outside, followed by a hot bubbly bath and a few books before bed.   The sun sets late here and he will fall asleep in the last bit of light.   With the onset of evening, the mood will shift.   Music is on, perhaps a bath before dinner?  I will slip into something more special, add a spritz of perfume, a swipe of lipstick and a pair of sparkly earrings.    The table is set, the candles are lit.   Evenings are for the adults, and will carry on far too late…
1/2/3/4/5/6  and not pictured but used very often, see here.
Perfume, earrings and a quick change for dinner.   Not every night was this dressed up, but it was fun on occasion.  Here I am wearing a fun sparkly number from  Cabana Vintage and my favorite new strappy heels which are on sale:
I am taking note of our rhythms here and marking the small habits to bring home:
A Morning Bath.   There are no showers to speak of.   It is surprisingly relaxing and energizing at the same time.
Simple, fresh meals, exceptional ingredients.   Croissants and fresh melon for breakfast.   Cheese and baguette and tomato salad for lunch.  Bread always picked up and eaten on the same day.  A slew of little salads, grilled vegetables, local sausages or fish for dinner, topped off with the most delicious gelato, a different flavor each night — pure pleasure!
Disconnecting.   With very little service, and inconsistent wifi (especially because we had lots of unseasonal storms), we found ourselves on our phones less and focusing more.   My husband doesn't have an issue with this at home but I do.   I couldn't believe how often my phone went without charge, and how my anxiety level dropped.   More time to take in the view,  exercise,  and most importantly, spend time with friends and family.
Making the effort in the evening.    Whether it was cozied by the fire in an intimate group or a long, candlelit table in the balmy evening air, every night held a touch of magic.   Even our dinners for two were properly set up and enjoyed.   We celebrated one another's company, phones were left behind and laughter-filled conversations ensued.   We dressed up, we danced, we drank too much and sometimes we cried.   The excitement of being in such a beautiful places with wonderful people was reason enough to make each night special but there's also the subtle hint the way the houses are set up.   The kitchen and dining area, as well as the outside (which is where we ate every night save three) are at the center of the home.    The making of the meal is the event, the TV is outdated, upstairs and never even crossed our minds…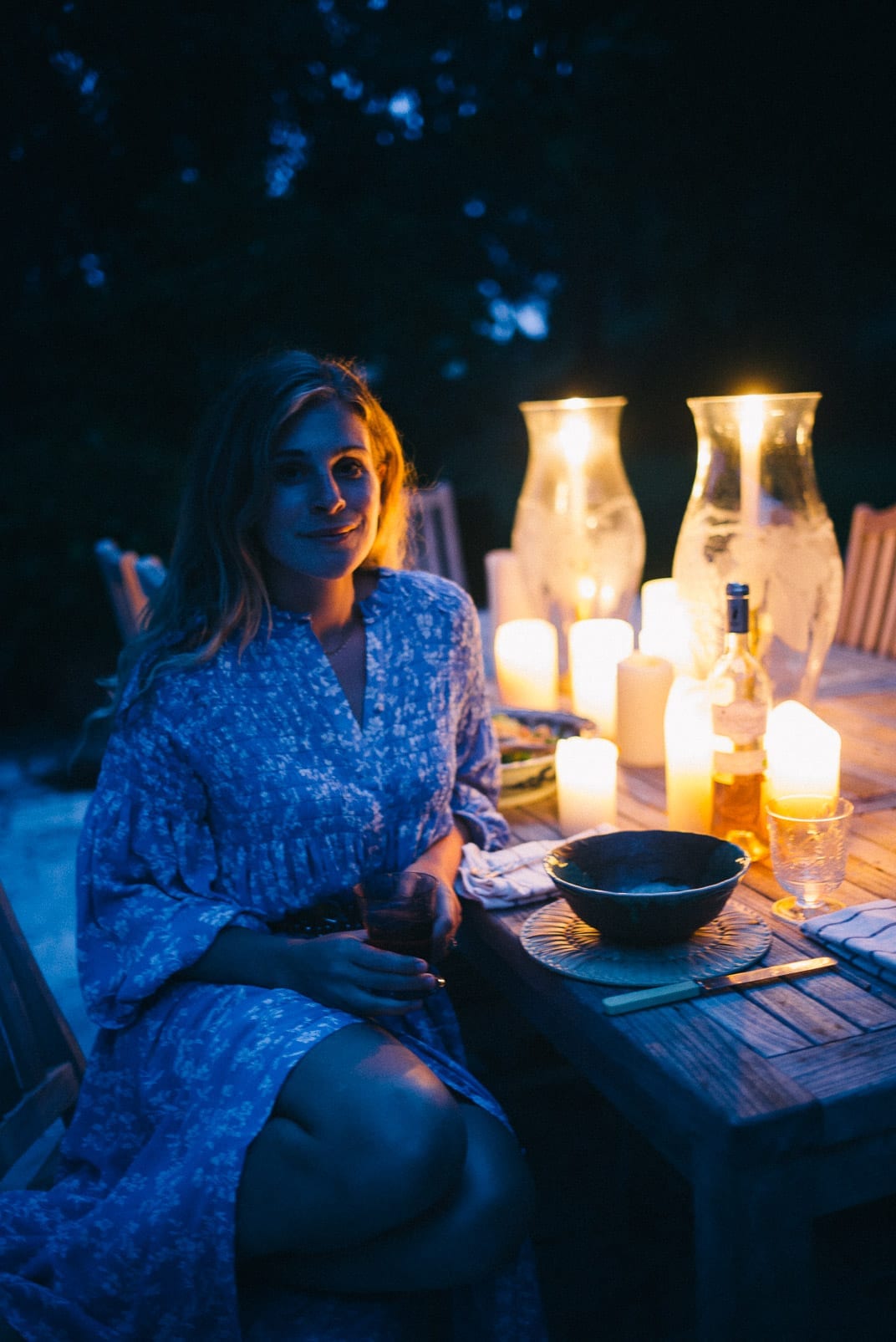 Will & I made a habit of eating very late, and always set the table, even for the two of us alone. 
Although eating outside was always first preference, even on cold evenings by the outdoor fire, there were some nights which were so rainy that eating in was necessary.    On this particular night, we candle-lit the whole room to create the ultimate cozy environment.   The flowers from the Saturday market in St. Tropez were a superb touch.  I will be sharing a dinner party playlist soon, too!! XX