First, I want to apologize for being a bit quiet.    We had friends in town, and then my mother with whom I spent several days buckled down and focused on getting the house in order.   After a busy wedding season this past spring, and then traveling for five weeks, there was a lot of outstanding house organizing that needed to be finished.   We are also finally getting around to really nesting and taking the house to the next level of decorating — from getting some of my late grandmother's pieces out (like a large Japanese silk screen which now sits in the front hall), to finally dropping fabric for the curtains at the workroom, and things like that… exciting!    Will and I also like to take pause every once in a while to think about the bigger picture for this site, and for our businesses in general; so that is what we have been up to — nothing to scintillating but lots of housekeeping !   Now, onto the more exciting bit….
We were simultaneously thrilled and crushed to have our new bed that we designed in partnership with the New Traditionalists arrive just two days before we left for France.    I was so enamored with it and was so sad to leave it having only had two sleeps but it was one of the real highlights of coming home.
I have been on the hunt for our "adult" bed for many years but couldn't find the perfect match.   One of the things that attracted me to The New Traditionalists is that the design is influenced by classic silhouettes, exceptional clothing, history and holds the idea that the "traditional" is still very cool (an idea that we of course hold too).   I love that as a customer, you can completely customize the piece, thereby designing something that is very "you".   In this case, I took this design and made the following changes:   lowered the headboard, covered it in this fabric, squared off the top, made all of the posts square, and opted for a white wash which fits our breezy Charleston bedroom.   One of the coolest things is that they can also match any Benjamin Moore paint color — for a split second I thought about a more wild blue but stuck with the white as I want this bed to ours forever!
By the way, the changes took me a while to decide on, and I was guided through the process in the most lovely and helpful way.   I went to New York to work in the studio with the team in December, it is a very hands on experience and my only regret is that I didn't go to Connecticut to see the bed being made there.
Last, we threw on some linen sheers from all four corners which makes it all the more cozy….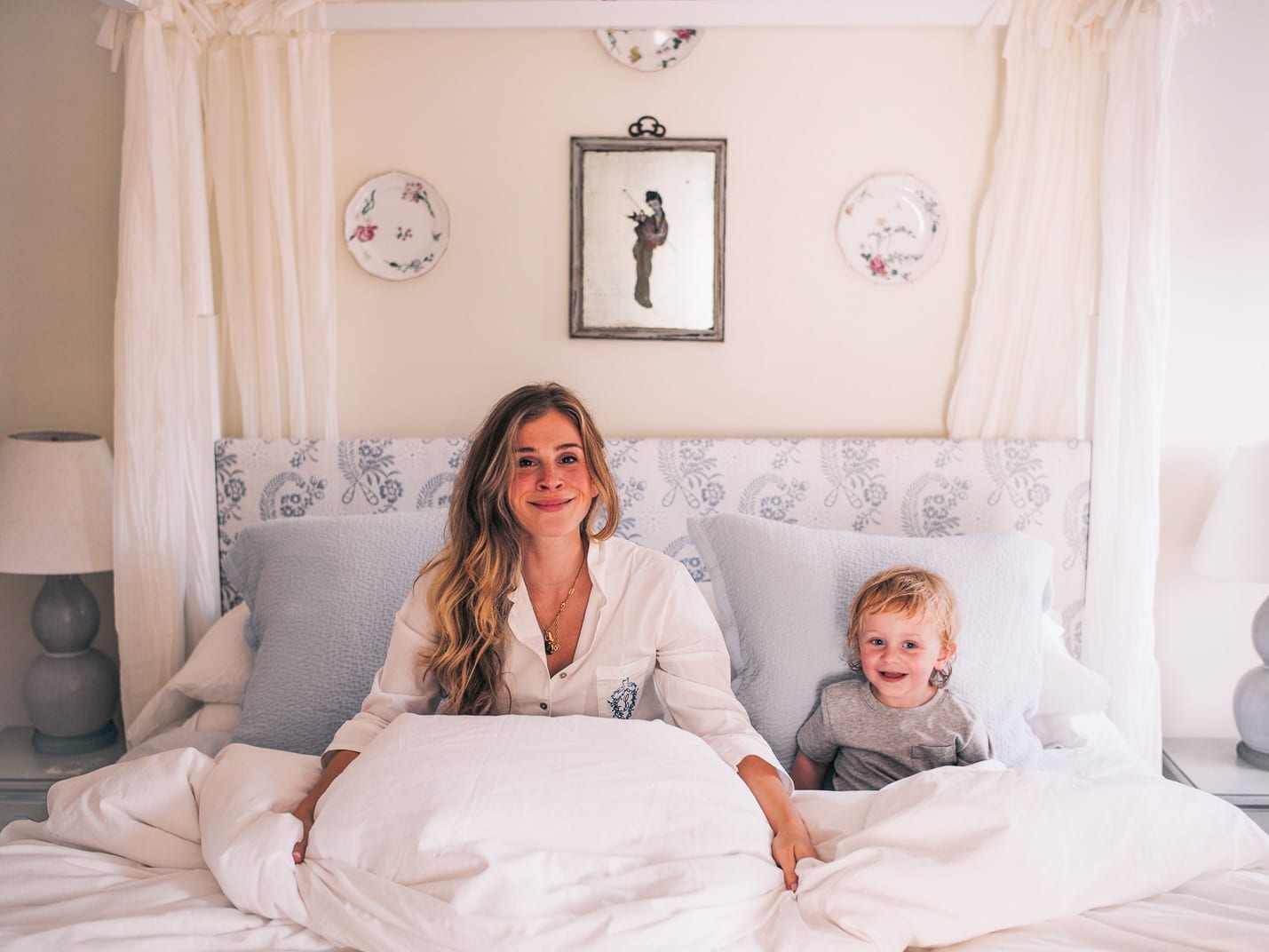 We are so grateful to have had the opportunity and are looking forward to showing you a bit more of what it looks like in the room as we reveal more of the house.
I love my Over The Moon Pajamas with custom monogram!!!  The whole collection is beautiful and as a converted pajama lover, these are a new favorite and an absolute "must"! xxx