After several amazing weeks in France and Italy, we have found ourselves fully adjusted to a European way of living.  To us, this means prioritizing atmosphere over convenience.   Once Baby R goes down (hopefully for the night!), there are several hours of beautiful sunlight left.  We have taken to preparing simple meals in a cozy environment — our alternative to going out for "date" night!  I think it's so easy and lovely to create a romantic dinner for two at home, I know that these new habits will last us all summer long.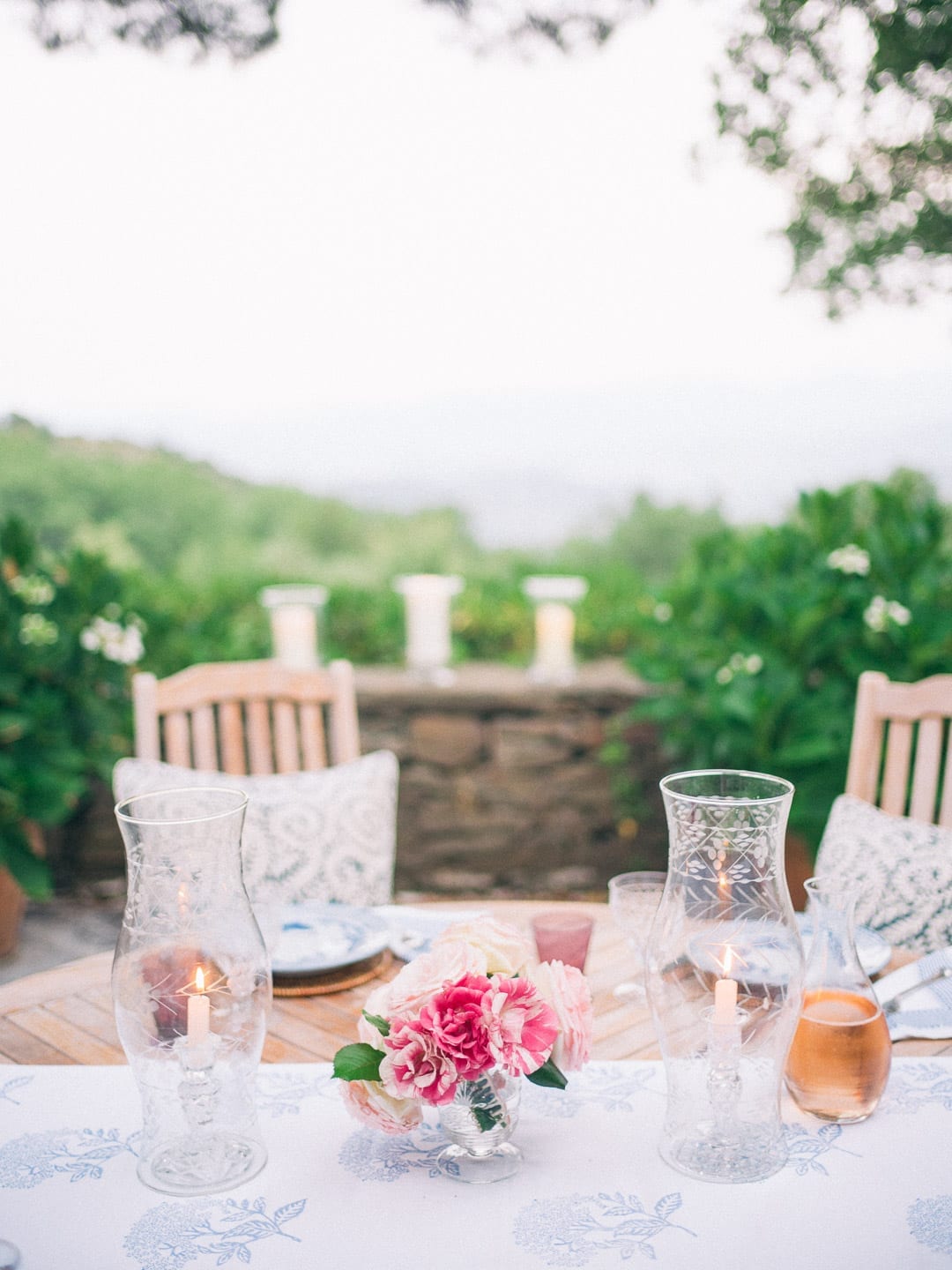 Last night, we set a romantic table for two.  I used the Tropez runner and my favorite napkins from Serena & Lily that for me capture the feeling of France so well.  It must be the blue and white or the block print on each which reminds me of the table setting at Club 55.  These shades of blue are very reminiscent of summer in France — light, airy, beachy and sophisticated.   I added lots of candle light, wine and roses cut fresh from the garden.
It is so hot during the day, our appetites are small and we often end up just grazing.  We always have our morning croissants and then nibble on olives and local cheese or we make an afternoon smoothie with fruits from the market.  At night, we will have a larger, healthier meal, full of vegetables and a variety of simple salads.  The vegetables here are so delicious and seasonal, the trick is to let them speak for themselves.   We often just add a splash of olive oil and lemon.  We have also grilled every night, adding fish or sausages to our meal, which remind me so strongly of childhood here.  The boys drive the grill and it ends up being a fun way to come together.
This was a rare moment for just the two of us to unwind and relax together; I am grateful that we made an extra effort and had a romantic dinner for two at home!